Advertisement
August 12, 2005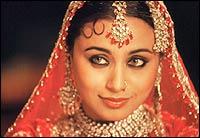 Rani Mukerji may not have a very lengthy role in Ketan Mehta's Mangal Pandey but she's still very excited about it.

 

After all, she's back with her Ghulam [Images] co-star Aamir Khan [Images] after a long while. Besides, the actress plays a sex worker for the first time in her career.

 

Subhash K Jha talks to this very talented actress about Mangal Pandey.

 

What makes Mangal Pandey special for you?



Yes, agreed my role is limited. But

Mangal Pandey is a prestigious product. It's also my fourth

 

period film, after Kamal Haasan's [Images] Hey! Ram, Sanjay Leela Bhansali's [Images] Black and

Amol Palekar's

Paheli [Images]

.

 

The Rising: History comes alive

 

Actually, the difference between a period and contemporary film is created by the clothes. Otherwise, the emotions and drama are the same. In Hey! Ram and now Mangal Pandey, the period detailing is excellent. Since Mangal is set in 1857 you'll only see people riding horses and elephants.

 

Why do you say you've nothing much to do?

 

See, my role started as a cameo. I was supposed to play the widow Jwala's character -- yes, the one Aishwarya Rai was supposed to have done. Now Amisha Patel [Images] is doing that. 

 

When I read the script, I fell in love with the small role of the prostitute. There were two or three very good scenes. The script underwent a change, and I got more space than before. But it's still a cameo -- nothing like what Smita Patil did with Ketan Mehta in Mirch Masala, though I wish had.

 

Though I play a tawaif, I don't have a central role like Meena Kumari in Pakeezah or Rekha [Images] in Umrao Jaan [Images]. Mangal Pandey is completely about the title character.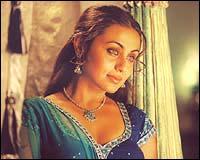 Mangal Pandey has you perform a mujra for the first time.
Yes, and I was really looking forward  that. I got a chance not only to do a mujra but also to be choreographed by Saroj Khanji. It's a situation where I taunt the goras. Actually, I'm a trained classical dancer. One day, I hope to do a film where I play a dancer. Maybe someday someone will make Guide, Kinara or Bhairavi with me.
Aamir and you go back a long way.
Oh yes! He was my hero in Ghulam. After that there was a long gap until Mangal Pandey. In between he did want me for Lagaan [Images]. Today, we're very close friends. The equation is different. I remembered how he used to show me to do scenes. He still tells me how to do my scenes.
I admit I did Mangal Pandey for Aamir. I can never say no to Aamir or Shah Rukh [Images].
Special: Showcasing Mangal Pandey
Ketan Mehta is a fine filmmaker.
Oh yes! Don't I know it! It's important for me to be comfortable with the person I work with. Ketan was really easygoing and helpful.
Your previous film, Paheli, didn't do too well...
When you do something different, there's always a risk factor involved. But to me, everything I do with Shah Rukh is special. And the way Ravi Chandran shot me in Paheli was unbelievable. I've been shot beautifully in Mangal Pandey.
But here, my makeup is completely true to the period. Those days women put charcoal instead of kajal in their eyes. I created that effect by smudging kajal.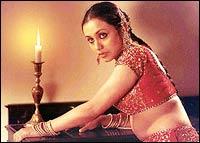 The film is in English and Hindi. Are you promoting the film internationally?
Where's the time?
I'm too busy shooting for Baabul. And after that, I've to start shooting Karan Johar's [Images] Kabhi Alvida Na Kehna.
Actually, I don't look at any film as national or international. Today, I really have to be excited about a role, regardless of where it comes from. Henceforth anything that I do will be roles and films that will be remembered.
My roles have to have an underlining message for the young. Baabul has an important message about widow remarriage.   Even Bunty Aur Babli [Images] has a sub-text about small-town dreamers.
Black ke baad sab kuch pheeka lagta hai...
If I had done Black when I got married and had babies, it'd have been a fantastic exit for me. But it happened now, and I want to do more such films. Yes, I'm greedy. I'm working till end of next year. I'm listening to scripts but at the makers' own risk. I'm not signing anything right now.
My priorities are Baabul and Kabhi Alvida Na Kehna. Because Karan's film got delayed, I had to break Baabul into two schedules. After these two films, I'll take some time off.
To get married?
No, to have a holiday. After that, I'll take on more assignments.
Buy Mangal Pandey movie tickets!